Kununurra Country Club Resort is acentrally-located Resort accommodation, less than 5km to the Kununurra airport. Whether via our staff sharing their local knowledge, displaying local art and photography throughout the property, or our restaurant's focus on celebrating locally-produced ingredients – we are committed to weaving together local experiences, products and people to provide guests a greater appreciation of our home.
Kelly's Bar & Grill serves breakfast lunch and dinner, 7 days a week. Breakfast and lunch are served from Kelly's Pool View Bar & Deck, while dinner can be enjoyed in either our main dining room overlooking our 'jungle' garden or overlooking the pool. Kelly's offers modern Australian cuisine with influences from the varied experiences of our chefs.
Our air-conditioned rooms are open-plan, with private ensuite and include the best of Resort-style features.
Bungle Bungles (Purnululu)
Bungle Bungle Savannah Lodge
East Kimberley Tours' Bungle Bungle Savannah Lodge is an an eco-friendly bush camp which accommodates up to 60 guests per day. Features include a swimming pool, hot showers, flushing toilets, indoor and outdoor dining facilities and a rustic camp fire area. Also on offer is a fully licensed bar that has a range of alcoholic beverages and soft drink available (not included in tour cost - additional expense).
Choose between a range of hard-walled cabins, each with ensuite.
Mitchell Falls Wilderness Lodge
The Wunambal people welcome vistors to Ngauwudu (Mitchell Plateau). The lodge is nestled under a shaded canopy of eucalyptus and ancient Livistona palms. Close to Mitchell Falls, it is the ideal base for exploring the plateau and its attractions. Featuring just 24 tented cabins with twin or double beds and private ensuites, Mitchell Falls Wilderness Lodge offers intimate accommodation. Sit back on your private deck and let the Kimberley calm wash over you. After a day of exploring, you can relax knowing that our chef will prepare a delicious three-course dinner and sumptuous buffet breakfast (lunch on tour is provided by your guide).
El Questro Wilderness Park
Emma Gorge Resort
Hidden within the fiery red of El Questro's Cockburn Ranges lies the spectacular Emma Gorge Resort. Emma Gorge Resort offers comfortable accommodation in superior safari style Tented Cabins with all the facilities you would expect from a resort – a pool, great restaurant and a unique location.
The raised rooves of the tented cabins allow tropical sounds and scents to filter in as you drift off to sleep. The canvas outer can be rolled up in parts to assist the flow of a natural breeze through the cabins.
Beds are fitted with crisp, quality linen and comfortable pillows, while fans help make warmer nights more restful. All Tented Cabins have their own private ensuite bathroom facilities. Bedding includes one Queen bed and two single beds.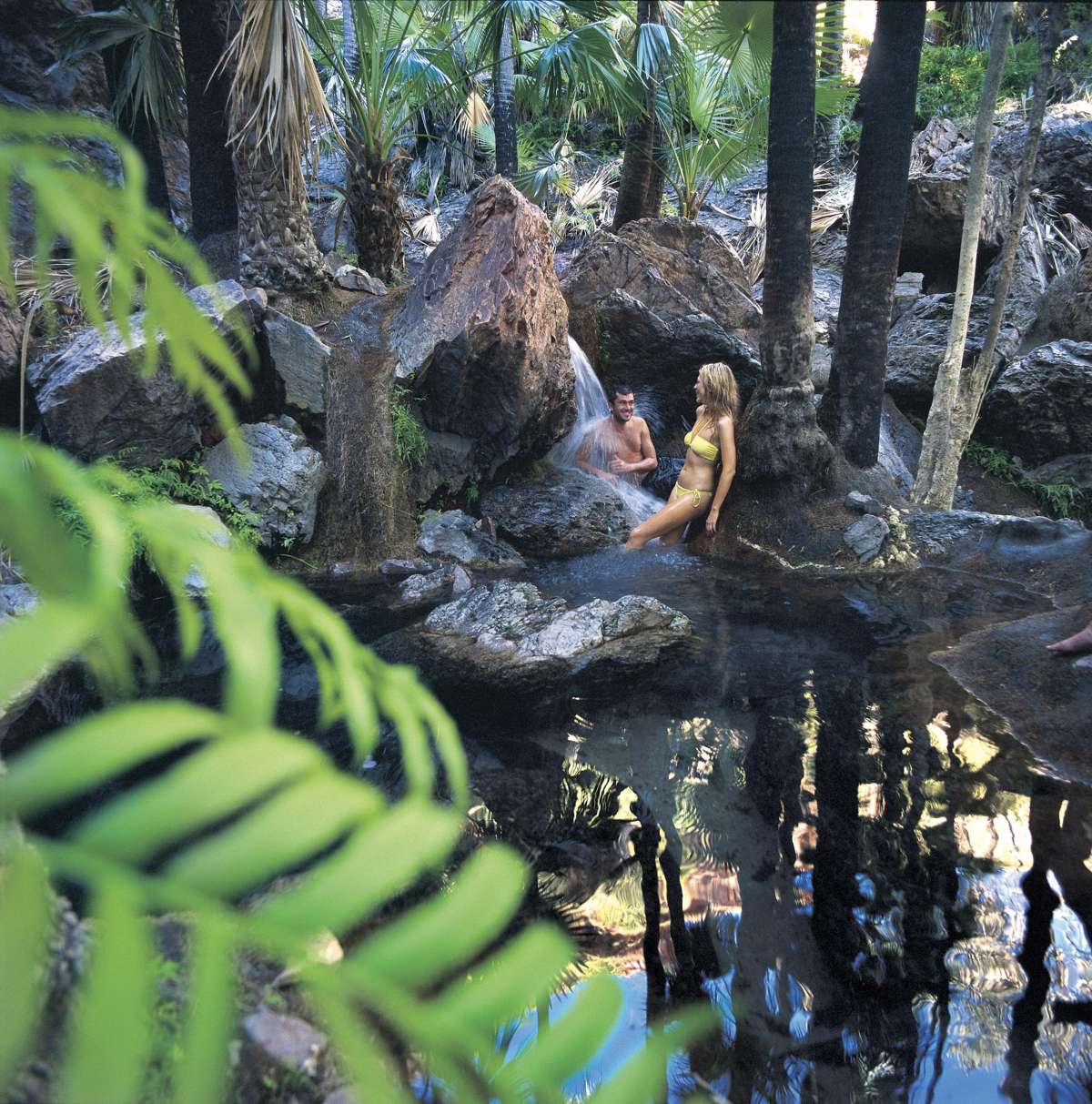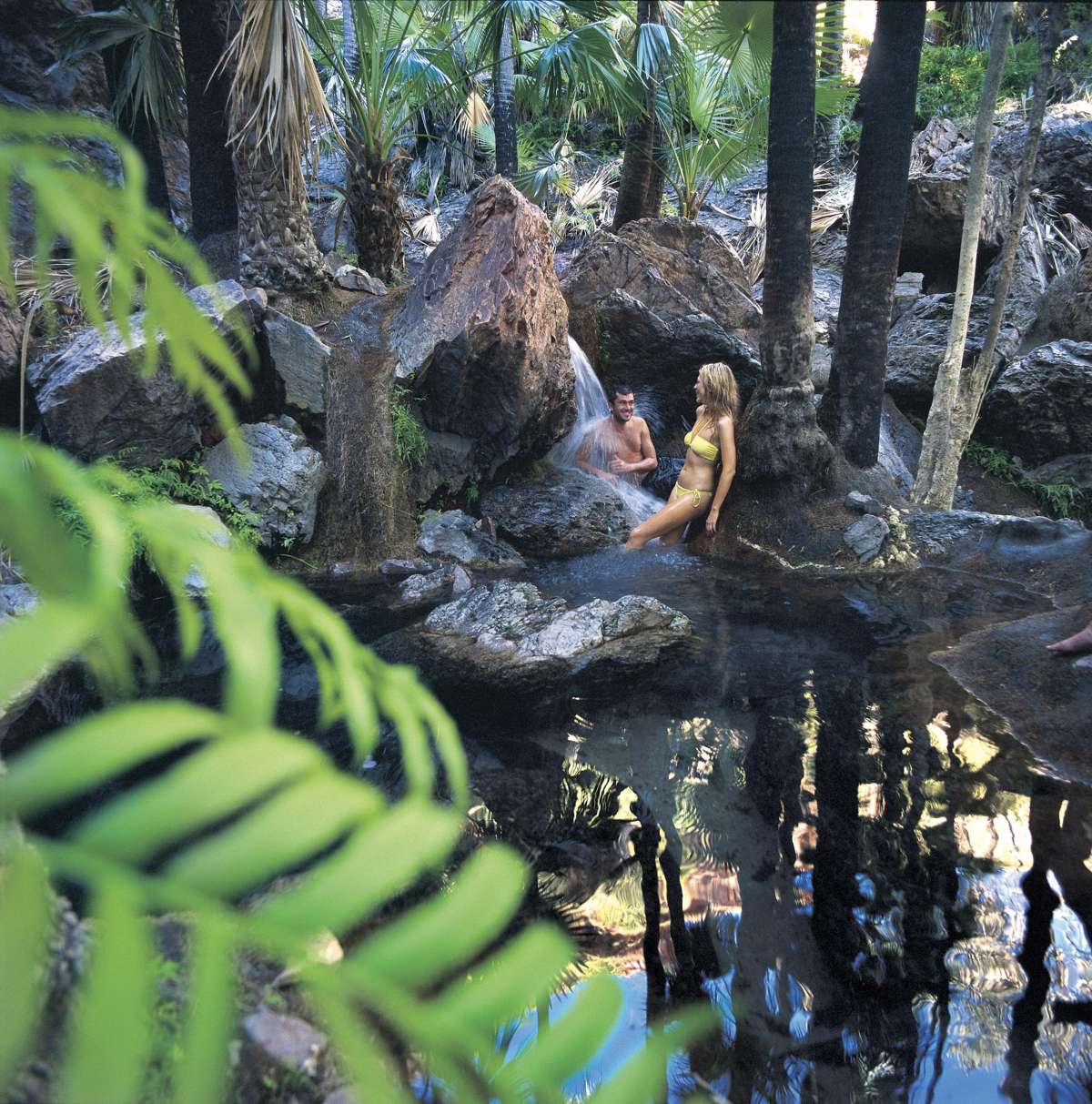 El Questro Station Township
The Station is the central hub of El Questro Wilderness Park. On the banks of the Pentecost River, sprawling evergreen station lawns provide contrast to the surrounding Kimberley landscape. Relax on the riverbank, swim in the tranquil swimming hole and in the evenings enjoy the best freshly made cuisine at the Steakhouse restaurant.
Conveniently located next to the Steakhouse Restaurant and the Swinging Arm Bar, choose between Station Gardenview or Station Riverview rooms with Queen bedding, ensuites and air-conditioning. Note: 2 of these rooms are built from Kimberley river stone and have a different feel to the other rooms.
Home Valley Station
Owned by the Indigenous Land Corporation in the East Kimberley, Home Valley Station is both a working cattle station and a tourism operation, providing guests with the ultimate Australian outback experience. The property has comfortable accommodation with two swimming pools and Dusty Bar & Grill, which provides live local entertainment.
Choose between 3 accommodation types: The luxurious Grass Castles on idyllic Bindoola Creek are generously appointed, providing guests with the ultimate in outback lodging. Guesthouse Rooms provide a comfortable retreat and are perfect for couples and families. The smaller safari-style Eco Tents, located in a quiet bush setting, will satisfy those seeking to connect with nature.
Drysdale River Station
In their own words: "We are not a hotel, not a motel, not a farm stay, not a bed and breakfast, not a roadhouse, but we ARE an Australian outback mixture of all these things. A beer garden with shaded tables, cold beer, good food and on cold nights a log fire all combine to ensure it is the hub of the North Kimberley.
Room choices range from small and basic, up to larger rooms with queen ensembles or large single ensembles, en suite and air conditioning. We can also offer one family room, triple rooms, or two bedroom 'units ' with own bathroom which are suitable for four people. All rooms of course have all bedding, soap & towels etc. provided. Our 1,200 ft altitude and cold mid dry season nights make air conditioning unnecessary for much of the winter, however, some rooms have air-conditioning.
Bell Gorge Wilderness Lodge
Bell Gorge Wilderness Lodge is located just 200 metres off the Gibb River Road overlooking the King Leopold Range. In an enviable position just 200-meters off the Gibb River Road, Bell Gorge Wilderness Lodge is located on a prime indigenous-owned site close to the Imintji Aboriginal community. Features include: Comfortable with Tented Cabins with Ensuites & Private Decks; Open-Air Dining; Liquor License and Camp Fire Evenings.
Mt. Elizabeth Station
Historic Mt Elizabeth Station is a fully operational cattle station in the heart of the Kimberley. It is home to the Munja Track and also beautiful Wunnumurra Gorge. Enjoy comfortable homestead rooms (shared bathrooms) or ensuited dongar-style accommodation.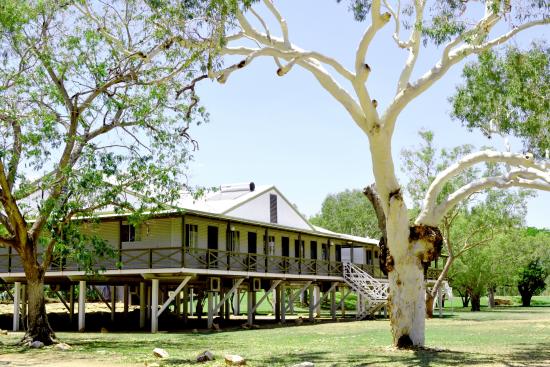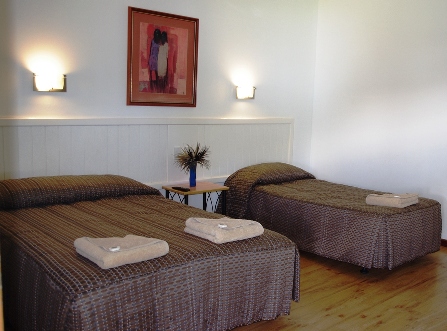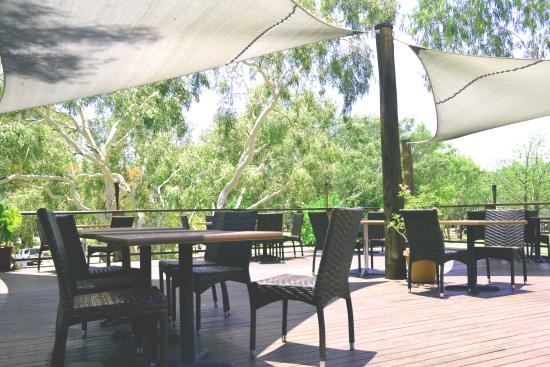 Fitzroy River Lodge, Fitzroy Crossing
Situated on the banks of the mighty Fitzroy River lies the Fitzroy River Lodge, on the highway between Broome and Kununurra. Facilities include a swimming pool, tennis court, restaurant and lounge bar. Motel Rooms are well appointed and comfortable.